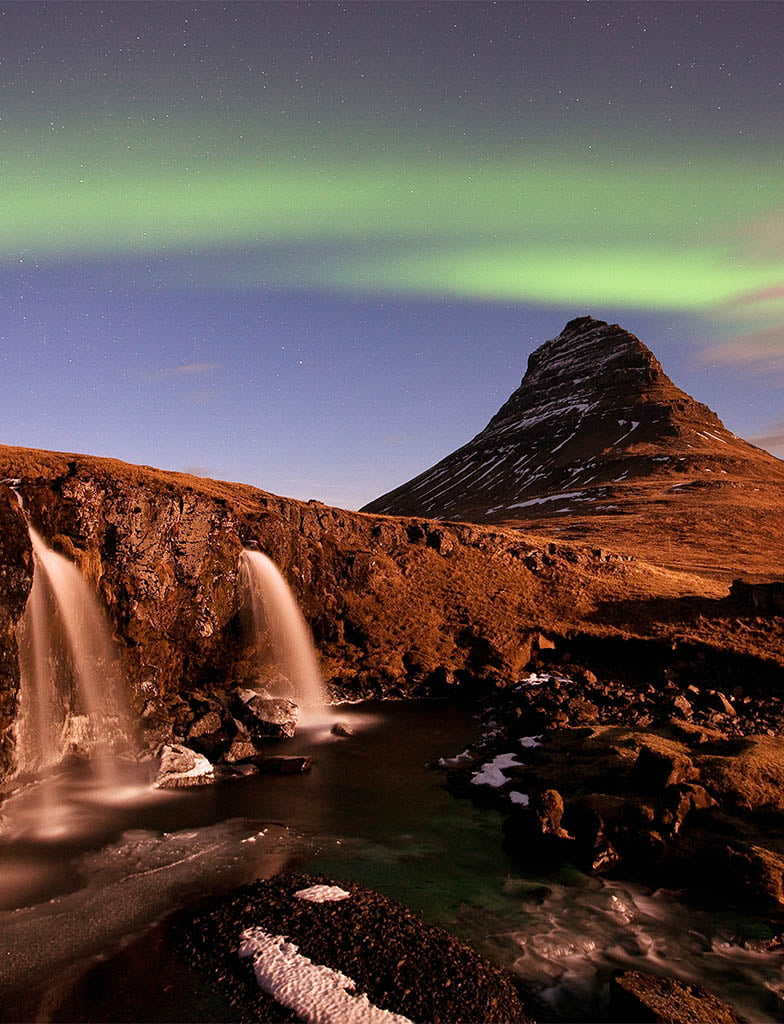 Snæfellsnes tour is available all year round. This area offers many of the more dramatic locations in Iceland. The peninsula is known for its landmark, the Snæfellsjökull Glacier. Julius Verne made it famous in his book, Journey to the Center of the Earth. In recent years another landmark has been the most popular sights at Snæfellsnes, especially for photographers, and that is Kirkjufell Mountain. Next to the town of Grundarfjörður and a with a beautiful waterfall to shoot from it is understandable why it has grown in popularity.
This area also offers many charismatic seascapes and lighthouses, beautiful churches, black sand, and white sands. If we are lucky northern lights might show up during the wintertime. Almost anywhere you can have the beautiful glacier in the background (if the weather permits). Snæfellsnes is a beautiful and unique place to visit when in Iceland.
You need to be wearing good hiking shoes and warm clothes and we will provide you with a recommended clothing and equipment list.
Snæfellsjökull – the famous landmark of Snæfellsnes
Kirkjufell mountain – and Búðir Black Church

Amazing landscapes – all year round this area will provide amazing opportunities for photography
Experienced local guide – All our guides have years of experience leading tours

Duration – 8 - 10 hours

Activity level – Easy

Payment info
Deposit payment $500 USD upon booking
Payment in full 30 days prior to the tour starting date.
Total price: $1,500 USD
SIGN UP
What's included
Includes a guide and transportation for the day and can be shared between 1-4 people
For larger groups we have a 8 pax shuttle, 12 pax and 15 pax Super Truck – please contact us at info@arcticexposure.is for prices
Hotel pick-up & drop-off
What's not included
International Flights
Cancellation Insurance
Meals and drinks
Snæfellsnes Photo Gallery