Northern Lights in Iceland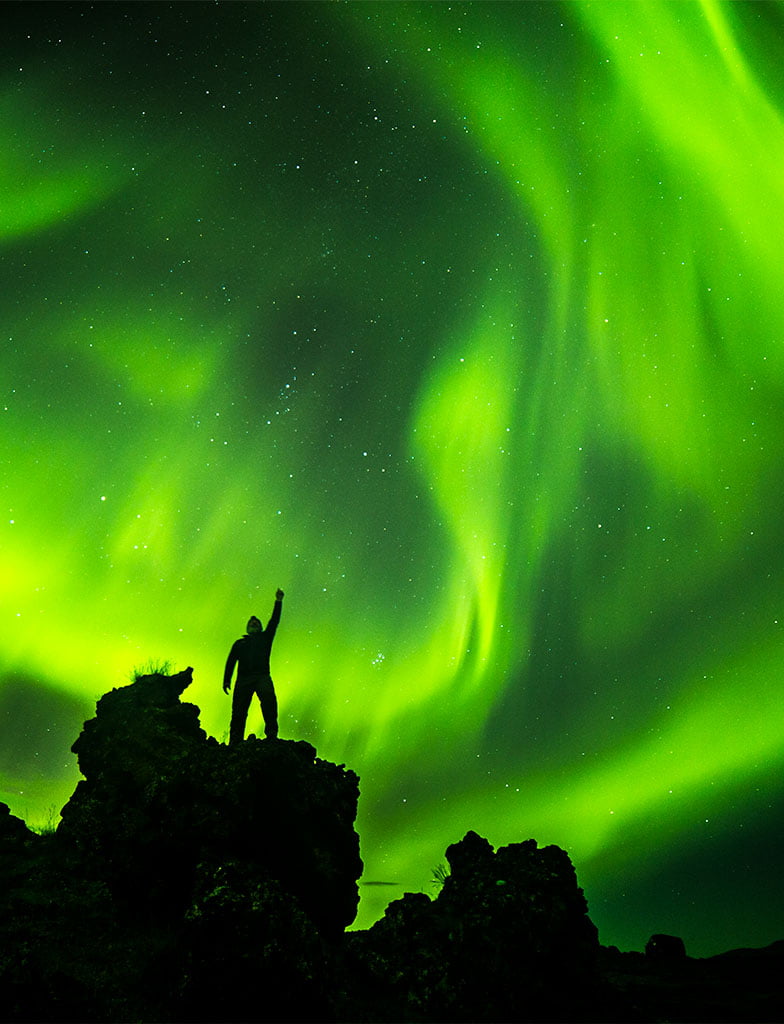 We run our Northern lights tour from the end of August to mid-April each year.
Before we start the tour we will go over the forecasts for lights and weather. We only go if the weather and conditions permit. Based on that we will then select a time to pick you up form your hotel. A common pick up time is around 7 pm.
We will drive outside the city and follow the prediction for that day. This means we don't have a set location to view the lights. This also means that we might arrive late at the hotel in the evening. We might start with a sunset shoot before the hunt begins to make the most of the day if the weather allows. If the forecast is better for lights later in the evening we might go out later.
You need to be wearing good hiking shoes and warm clothes and we will provide you with a recommended clothing and equipment list.
Auroras occur when charged particles from the sun's solar wind interact with Earth's upper atmosphere (at altitudes above 50 miles, or 80 km), causing a glow. The particles are funneled to Earth's polar regions by the planet's magnetic field. The auroras over the North Pole and the Arctic are known as the aurora borealis or the northern lights.
Many things need to be taken into account and for the best chances for you to see the lights we recommend that you book the tour at the beginning of your trip to Iceland so you might be able to reschedule if conditions are not right.
Northern lights Highlights

Northern lights – Amazing display of lights in the night sky
Experienced local guide – All our guides have years of experience leading tours

Duration – About 4 hours

Activity level – Easy

Payment info
Pay when you book
Price is pr. car and can be shared between 1-4 people
Contact us for a quote for a larger group or pick up locations outside of Reykjavik
Total price: From $900 USD
SIGN UP
What's included
Includes a guide and transportation for about 4 hours and can be shared between 1-4 people
We have shuttles for larger groups – please contact us at info@arcticexposure.is for a quote
Hotel pick-up & drop-off in Reykjavik (and Capital Region) – please contact us at info@arcticexposure.is for a quote for a different pick up location
What's not included
International Flights
Cancellation Insurance
Meals and drinks
Northern lights Photo Gallery