Svalbard Polar Bear Sailing Expedition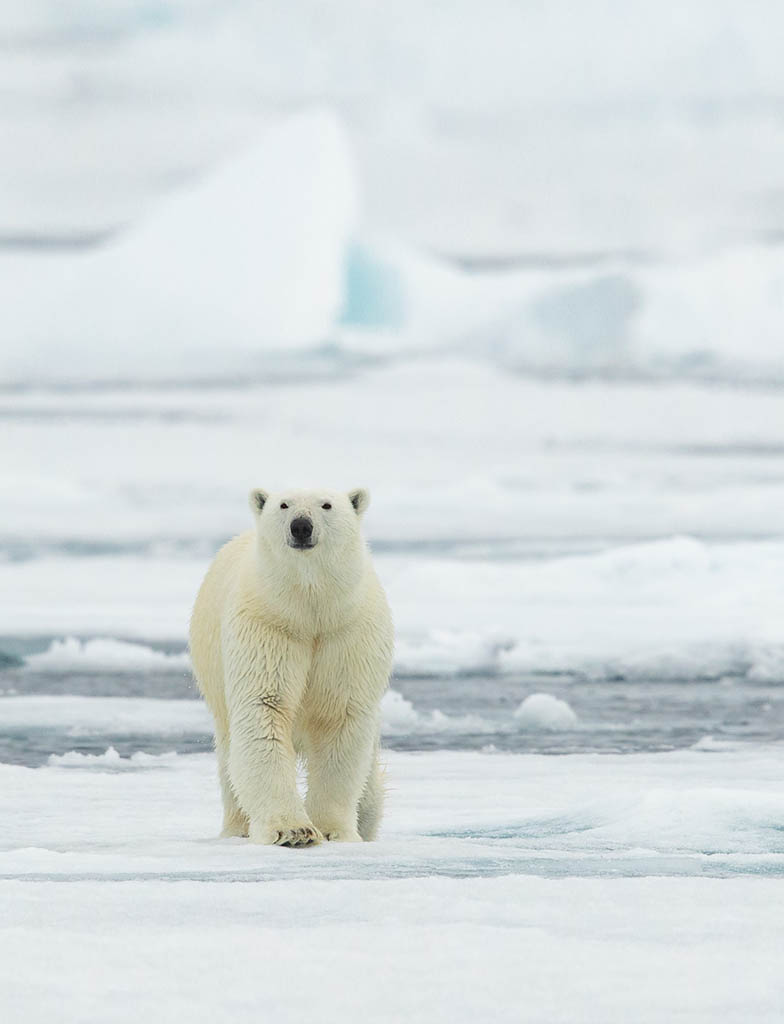 In August, we offer a photography expedition to the Norwegian archipelago of Svalbard, located deep within the Arctic Circle. One of our main goals will be to find and photograph Polar Bears in its natural habitat out on the pack ice and Svalbard has historically been one of the most reliable places to photograph bears.
Together with the captain and our expedition leader, we will decide upon the best strategy to find and photograph Polar Bears on sea ice along with other charismatic Arctic wildlife, such as Walrus. Our success will depend on the ice condition and its location. In some years the ice is just off the northern tip of Svalbard while in other years it has retreated too far north to make it possible to sail there. In the case of the latter, we will search for Polar Bears that are on land in the northeastern part of the archipelago, where they are sometimes seen hunting on ice in front of glaciers. This is an expedition into a changeable environment and the element of surprise. The discovery of what wildlife is found where and when is a major part of the Svalbard experience.
The High Arctic is a place to inspire the imagination. Nowhere is it more accessible than the Norwegian archipelago of Svalbard, located deep within the Arctic Circle.
Polar bears – Normally between 10 and 20 Polar Bears are seen and photographed on each expedition
24 hour look-out – We have a 24-hour look-out for Polar Bears, so any time of the day, or night we can expect to have a Polar Bear shoot when the opportunity arises
Wildlife – Wildlife we hope to photograph: Polar Bears, Reindeers, Arctic Foxes, Seals, Walruses & birdlife, some of them are unique to the high north such as Ivory Gulls, Rock Ptarmigan, & Geese.
Whales – Sometimes whales are in the area, such as Blue whale, Fin whale and Humpbacks, but not promised
Amazing landscapes – Remote and unique wilderness with Ice bergs and wildlife

Small groups – Maximum number of participants: 12

Activity Level – Easy

Duration – 11 days / 10 nights
Professional Photography Guides – We offer local guides in Svalbard and our own guides

All-Inclusive Workshop – We'll meet you in Svalbard and we take care of the rest

Payment info
Deposit payment of $3,000 USD upon booking
A further $5,000 is due December 2022
Balance is due before March 2023
Total price: $13,900 USD
SIGN UP
What's included
Photography guiding by professional photographers and crew services
10 nights of accommodation aboard the ship
The meals onboard shall consist of breakfast, lunch, afternoon tea/coffee and two-course dinner (three-course dinner the last evening)
The mealtimes shall be held at regular times, but the catering crew has been informed that photography has priority on this expedition and flexibility is necessary
Water coffee/tea ad libitum - available 24 hours a day
Photography instructions and critique on demand from two highly experienced photo leaders along with Svalbard's most experienced expedition leader
Daily excursions by Zodiac (guests will be split into smaller groups per Zodiac due to limited seating)
Lectures, briefings and shoreside interpretations
Magnificent scenery and wonderful wildlife encounters
Great company and safe and friendly travel
What's not included
International flights – please contact our office for any assistance
Hotel in Longyearbyen before and after the expedition
Mandatory evacuation insurance – participants will require individual travel insurance
Alcoholic drinks & any other drinks not mentioned above
Customary tips for crew and staff
Anything else not specified as included