South Coast & Snæfellsnes Fall Photo Workshop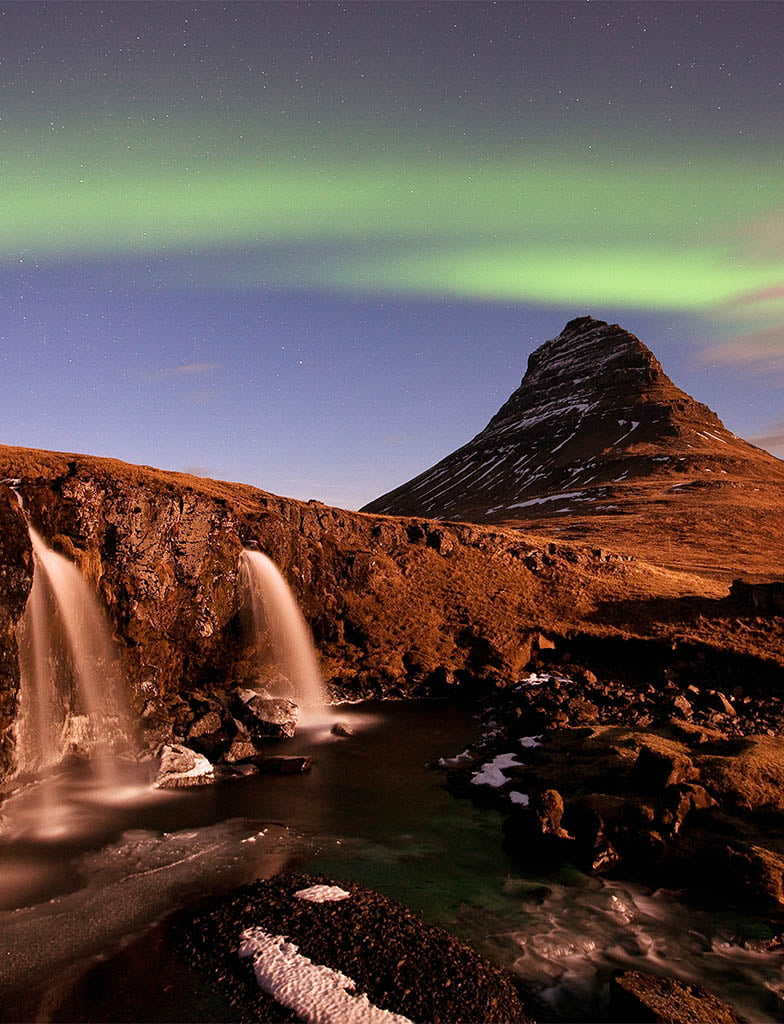 Our South Coast & Snæfellsnes Photo Workshop focuses on the fantastic landscapes the South Coast and the Snæfellsnes Peninsula have to offer in fall. The northern lights will hopefully grace us with their presence, but as with all of our workshops that fall withing the Northern light season, we will do our utmost to seize the opportunity to photograph them. You will find many of the more known locations of Iceland on the South Coast as well as lesser know locations and photograph them in their fall colors.
The fall is a short season in Iceland but the marvellous colours of autumn and the Northern Lights should tick most boxes for landscape photographers. Our local guides will assist you to get to the right locations at the right time as we follow the light.
The Snæfellsnes Peninsula is best known by photographers for the picturesque Mount Kirkjufell and its neighboring waterfall, but the area offers so much more with moving landscapes and an abundance of beautiful seascapes. The glacier of Snæfellsnes is mentioned as the gateway to the centre of the earth in Jules Verne's science fiction novel "Journey to the Centre of the Earth", but the peninsula is also one of three national parks in Iceland. The first two days of the workshop will be spent in this magical place photographing the major sights, stunning sunsets and perhaps a northern lights show at Mount Kirkjufell.
The South Coast is the most visited region in Iceland. We always do our best to avoid the crowds when possible. We have plenty of local connections and locations to visit so we can take you off the radar to photograph amazing sites.

Fall colors – They are truly amazing in Iceland during this very short season
Waterfalls – Major waterfalls such as Seljalandsfoss, Skogafoss, and Svartifoss

Northern Lights – Aurora borealis nights in the glacier lagoon and other unique locations if conditions allow
Amazing landscapes – Including Snæfellsnes, Kirkjufell, Glacier Lagoon, Black Sand beaches and much more
Transportation – Super Truck transport into remote areas
Professional Photography Guides – All of our guides are professional photographers based in Iceland with years of experience leading photography workshops

Activity Level – Easy

Small groups – Maximum number of participants: 10

Duration – 9 days / 8 nights

All-inclusive workshop – Included in the price of the workshop are your accommodations, all meals, guiding and transportation

October 06 - October 14, 2023

Payment info
Deposit payment of $2,000 USD upon booking
Payment in full is required 90 days prior to the tour starting date
Double occupancy accommodations for eight nights at hotels, while single rooms are available upon request
Single room supplement adds $1,000 USD
Total price: $5,400 USD
SIGN UP
What's included
All accommodations with private bathrooms during the workshop
All meals
Guided by a professional Icelandic photographer
Image critique and post-processing session
Super truck transportation
What's not included
International flights
Cancellation insurance
Alcoholic drinks
Gratuity for your photography guide
Dinner on the last night
Airport transfers
Autumn in Iceland photography tour
I went on this tour with my 87 year young mother (her second trip with Arctic Exposure!). We both had a great time. Skarpi was a great guide. At every stop, and there were a lot of different places, he suggested the spots for the best photos as well as helping with camera settings! The accommodations were comfortable and clean. The food was good everywhere we ate. I would definitely recommend this company for photo tours of Iceland! There is so much to see.
Amazing Autumn Tour of Iceland
I decided to book this tour after a previously planned trip to Iceland with some friends fell through. This was my first "solo" tour (as in without my friends) and I was a bit apprehensive about what to expect – but I had nothing to worry about! First of all, let me just say that Iceland is a photographers dream – it is just stunning! The tour was led by Skarpi who owns Arctic Exposure. He was a great guide – knew all of the spots to take you to that wouldn't be too touristy which made for better photographs! My group was very small (7 people) so you got to know everyone pretty quickly. In addition to Skarpi helping with any camera settings or composition, you get the benefit of learning from others on the tour with you! This was great for me as a beginner and more of a hobbyist photographer. I definitely felt that I learned a lot on this trip and came away with photos that made me feel more professional!
As for the accommodations, most of the places you stay at will be more like a bed & breakfast – very quaint and cozy but all very clean and comfortable. This seems to be the norm in Iceland.
The food was amazing! I had heard that the food wasn't that great in Iceland, but everywhere we ate was delicious. There was always some sort of fresh caught fish with potatoes and vegetables. If that's not your jam, most places also usually had some sort of pasta dish, pizza or hamburgers – something for just about everyone!
Arctic Exposure did a great job finding off the beaten paths for the best photographs, comfortable accommodations and delicious places to eat! I would definitely recommend this company to anyone looking to book a photo tour of Iceland!