Highlands of Iceland Drone Photo Workshop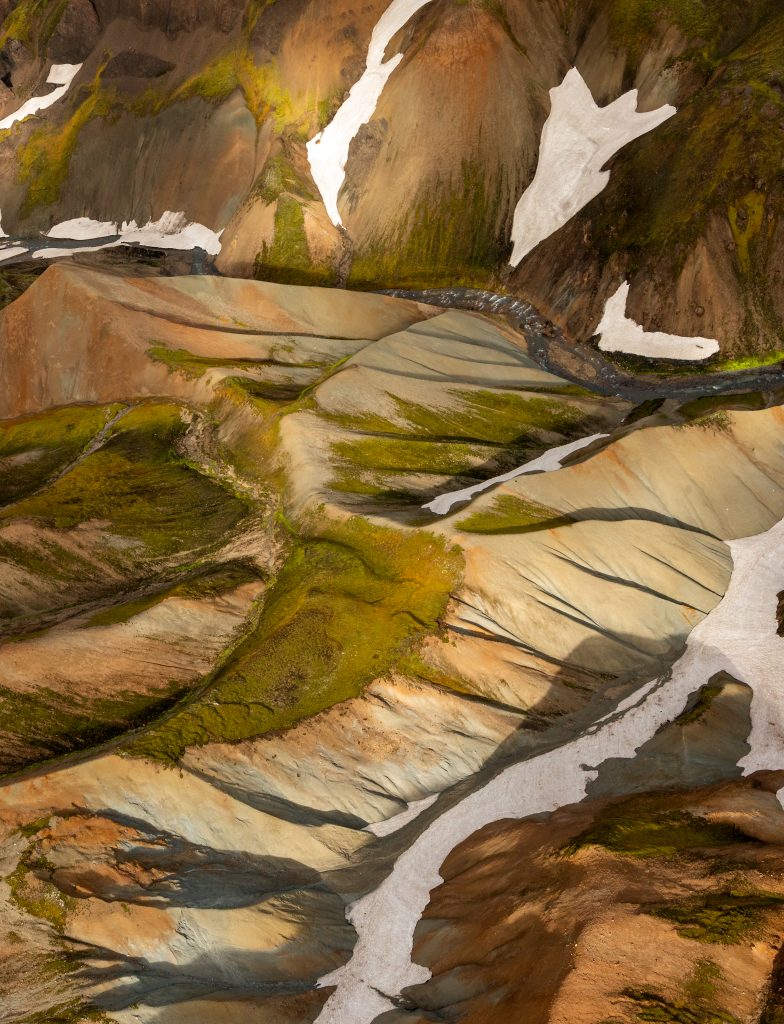 In this photo workshop, we will explore the magnificent Highlands of Iceland and capture the stunning landscapes from above. You will learn to photograph with a drone. We'll teach you everything you need to know, from unboxing to take-off, and landing, to capturing stunning photographs. This workshop offers detailed tutoring on drone use with a drone specialist and a local guide with extensive drone experience.
We'll travel to remote locations in the Icelandic Highlands and the South Coast of Iceland. Photographing the dynamic Highland landscapes, colorful geothermal areas, hot springs, lava fields, waterfalls, and multiple locations with stunning braided rivers where the glacial rivers flow over the sand. The landscapes are unique to Iceland and quite simply a photographer's dream.
This is an exclusive workshop with only five participants. Give everyone plenty of space to fly their drone, as well as get one-on-one time with your instructor. We'll travel in our custom six doors 4×4 Ford Excursion super jeep. Each participant has a window seat with a personal charging station during the workshop so that you can charge your drone batteries on the go.
The Highlands are usually referred to as the central area of Iceland, located 400m above sea level, covering approximately 76% of the land's surface area. Icelanders often refer to it as óbyggðir – or uninhabited country.
Roads accessing this area often open in late June and typically close at the beginning of October if the autumn is mild. This short window gives enthusiastic photographers only a few months a year to explore and enjoy the many breathtaking locations this area offers.

Drone Photography – You can bring your own or we can provide one for you.
Breathtaking landscapes – The unique and amazing landscapes of the Highlands will provide you with endless photography opportunities
Waterfalls – Amazing waterfalls, lakes and rivers
Unique terrain – red – yellow and black deserts, lava, geothermal areas & hot springs
Super Truck Transportation – In our custom 4x4 six door Ford Excursion
Professional Photography Guides – All of our guides are professional photographers based in Iceland with years of experience leading photography workshops

Activity Level – Easy

Very Small Group – Maximum number of participants: 5

Duration – 10 days / 9 nights

All-inclusive workshop – Included in the price of the workshop are your accommodations, all meals, guiding and transportation

Northern lights – Aurora Borealis nights in unique locations

September 27 - October 6, 2023

October 09 - October 18, 2023

September 23 - October 2, 2024

October 07 - October 16, 2024

Payment info
Deposit payment of $2,000 USD upon booking
Payment in full is required 90 days prior to the tour starting date.
Double occupancy accommodations for nine nights at hotels, while single rooms are available upon request
Single room supplement adds $1,500 USD
We can arrange for a drone for you at the workshop for $1,500 and it's yours
Total price: $8,950 USD
SIGN UP
What's included
All accommodations with private bathrooms during the workshop
All meals
Guided by a professional Icelandic photographer
Image critique & post-processing session
Super truck transportation
Custom packing list and equipment recommendations specifically for this workshop
What's not included
International flights
Cancellation insurance
Alcoholic beverages
Gratuity for your photography guide
Dinner on the last night
Airport transfers