Aurora Borealis & Ice Cave Photo Workshop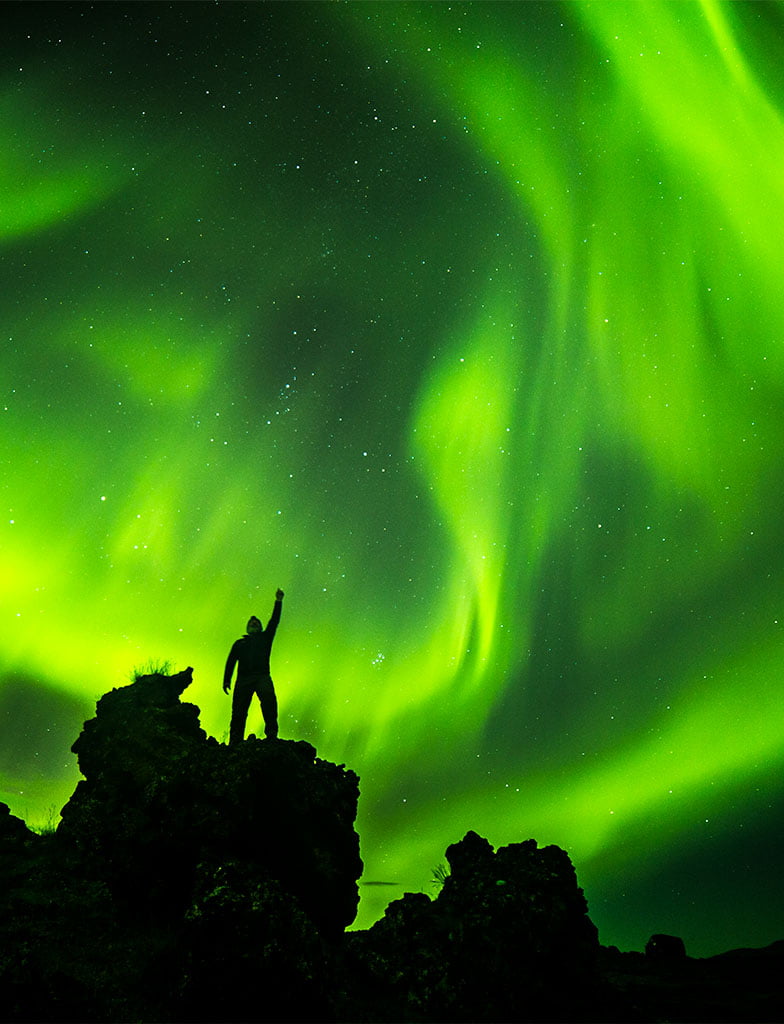 Arctic Exposure has been offering the Aurora Borealis & Ice Cave Photo Workshop for the past seven years, and we can confidently say that we have become experts in this area of Iceland. During this photo workshop, we focus on the breathtaking northern lights (aurora borealis) and the incredible ice caves that you find in many of Iceland's glaciers.
We will explore many of the better-known locations of Iceland as well. Seljalandsfoss and Skógafoss waterfalls, Reynisfjara black sand beach and the glacier lagoon, among others, along the South Coast. These are all the striking locations of Iceland that you may recognize from travel programs, movies and thousands of traveling photographers. The frozen winter landscape enhances the beauty of these unique locations and creates a perfect background for northern lights photography.
We will also visit many lesser-known locations along with the gorgeous ice caves. Every year, new caves are molded by the glaciers and each year, we have to explore for new caves and see if the older ones are safe, or still there. For these expeditions, we use our specially modified super trucks for transport and get as close as possible to the glaciers and ice caves.
During this workshop, our focus is on you and helping you improve your photography in astonishing locations. South Iceland has amazing soft light in the winter, glaciers and ice turn into magical sculptures. With only eight participants per group, everyone will have time with our skilled photography guides who are happy to answer every question that might come up. We welcome all photographers, from beginners to advanced. This is the perfect photo workshop to get your first taste of Iceland and explore the stunning glaciers in winter in contrast with the black volcanic sand.

Northern Lights – Aurora Borealis nights in the glacier lagoon and other unique locations

Ice Caves – Ice Caves and ice formations
Waterfalls – Major waterfalls such as Seljalandsfoss, Skógafoss, and Svartifoss
Glaciers – Glacier Lagoon and The Ice Beach
Transportation – Super Truck transport into remote glaciers and ice caves
Professional Photography Guides – All of our guides are professional photographers based in Iceland with years of experience leading photography workshops

Activity Level – Easy to medium. Access to Ice Caves vary

Small groups – Maximum number of participants: 8

Duration – 8 days / 7 nights

All-inclusive workshop – Included in the price of the workshop are your accommodations, all meals, guiding and transportation

December 01 - December 8, 2023

Payment info
Deposit payment of $2,000 USD upon booking
Payment in full is required 90 days prior to the tour starting date
Double occupancy accommodations for seven nights at hotels, while single rooms are available upon request
Single room supplement adds $850 USD
Total price: $4,900 USD
SIGN UP
What's included
All accommodations with private bathrooms during the workshop
All meals
Guided by a professional Icelandic photographer
Image critique and post-processing session
4x4 truck transportation
Ice cave tour
Safety gear will be provided, such as helmets and crampons
Northern lights photography
What's not included
International flights
Cancellation insurance
Alcoholic drinks
Gratuity for your photography guide
Dinner on the last night
Airport transfers
Ice Caves, Aurora Borealis and Winter on the South side of Iceland
Arctic Exposure's Photo Workshop of Northern Lights, Ice Caves, and diamonds on the black beach was a fabulous week of capturing beautiful photos. Our guide Aron was so knowledgeable, showing our small group all of his special spots and knowing when to be there depending on the weather plus avoiding the many tourists. I am so glad I chose Arctic Exposure's trip around the southern part of Iceland. It was Awesome….!
Workshop date February 2020
Epic photo tour with Skarpi
Awesome trip!!! I highly recommend choosing Skarpi if you want to take this epic photo trip. Went on week long photo tour with Skarpi in Dec 2019 along the south coast of Iceland. Skarpi took us to stunning locations to shoot several waterfalls, 2 ice caves, horses in the snow, a glacier lagoon, chunks of glacier looking like massive transparent ice cubes on a black sand beach and my favorite: the northern lights (Aurora Borealis).
Skarpi is a native icelander who has been running tours for many years. He knows just about everyone. We went in his jacked up 4×4 mercedes sprinter that got us easily over iced up backroads to cool spots where the run of the mill photo tour bus can't go. Skarpi keeps it to small groups so all get his help and all get to know one another. Keeping it small also allows him to be flexible one what we do and shoot based on weather and needs and wants of our group. I learned a bunch about landscape longer exposure photography, merging images in lightroom and other lightroom techniques to get the most out of these stunning settings.
I took my 82 year old dad who had just as good a time as I, with amazing photos and great stories. The daylight is very short and the landscape and ice caves are surreal like another planet. well worth the adventure.
Skarpi arranges all hotels and meals and generally less touristed places outside of Reykjavik. Skarpi loaned us all a set of crampons for walking the icy trails when needed. But i highly advise many layers as it gets cold out in the wind. there are a bunch of stores to buy extra gear if you are underprepared in Reykjavik. Highly recommend a bag of ski type hand and foot warmers for the week.
I researched other providers who looked like they tried to copy Skarpi's itinerary but none had his local knowledge and experience.
Workshop date December 2019