Around Iceland Summer Photo Workshop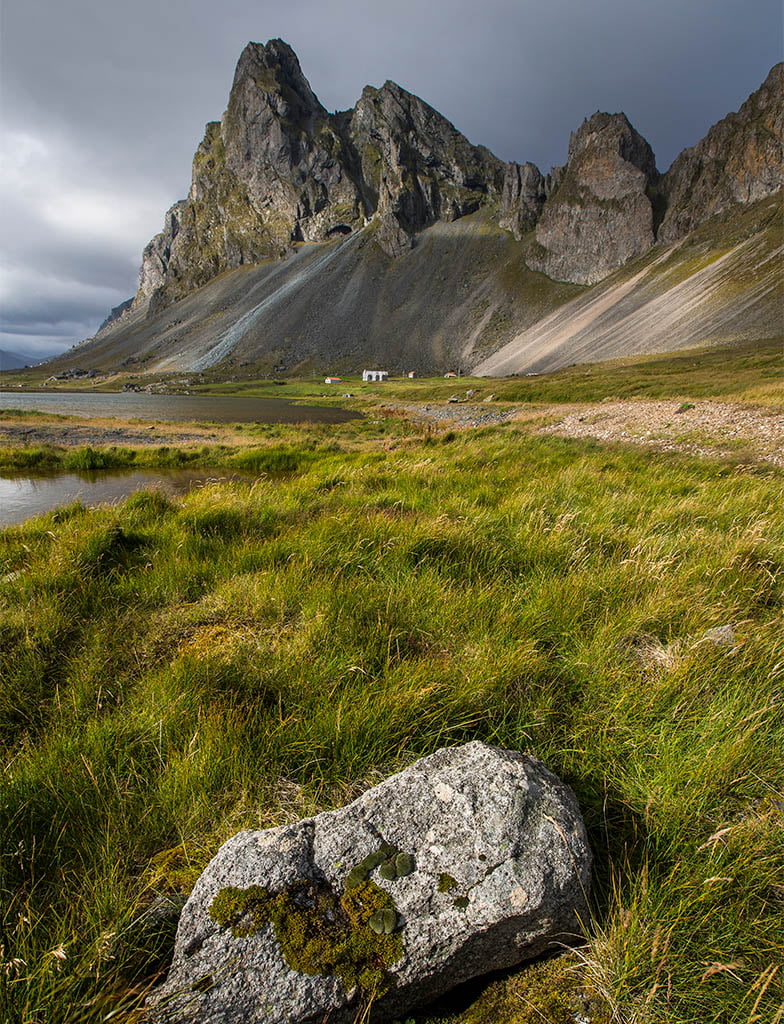 In our Around Iceland Photo Workshop—Summer, we cover the very best of the extraordinary arctic country. The summer season in Iceland is particularly unique because the days are endless with nearly 24 hours of sunlight therefore, you can expect long days as sunset and sunrise are only a few hours apart. The summer months are also the time when Iceland welcomes the Atlantic puffin back to its shores and we make time to visit a puffin colony during the 11-day workshop.
Along with the midnight sun and puffins, we will take you to a variety of glaciers, glacial lagoons, black beaches, waterfalls, geothermal zones, lava fields and seascapes on our journey around Iceland. This is an ideal photo workshop for nature photographers who want a fantastic introduction to the diverse landscape Iceland has to offer.
This workshop is for photographers who are seeking a more personal experience. Our small groups consist of no more than ten photographers at a time and our workshop is all-inclusive. The workshop fee includes guiding, accommodations, all meals (breakfast, lunch & dinner), transport in a 4×4 super-truck, and post-processing tips.
The Atlantic puffin – While they are back on Icelandic soil between the months of May to mid-August, we make sure to pay them a visit
Waterfalls – Stunning waterfalls, lakes and rivers under the midnight sun
Midnight sun – The endless daylight gives us endless photography opportunities
Amazing landscapes – The unique colours of Iceland are on full display during the summer months. The green moss and black lava create amazing contrasts
Transportation – In order to travel across the rugged Icelandic terrain in comfort and ease, our groups travel in specially modified and spacious 4×4 super trucks
Professional Photography Guides – All of our guides are professional photographers based in Iceland with years of experience leading photography workshops

Activity Level – Easy

Small groups – Maximum number of participants: 10

Duration – 11 days / 10 nights

All-inclusive workshop – Included in the price of the workshop are your accommodations, all meals, guiding and transportation

Payment info
Deposit payment $2,000 USD
Payment in full is required 90 days prior to the tour starting date
Double occupancy accommodations for ten nights at hotels, while single rooms are available upon request
Single room supplement adds $1,000 USD
Total price: $6,900 USD
SIGN UP
What's included
All accommodations with private bathrooms during the workshop
All meals
Guided by a professional Icelandic photographer
Image critique and post-processing session
Super truck transportation
Puffin photography (May-August)
What's not included
International Flights
Cancellation Insurance
Alcoholic drinks
Dinner on the last night
Gratuity for tour guide
Airport transfers
My wife and I just completed the June "Around Iceland Photo Workshop" with Skarpi. It was a fantastic trip with great photo opportunities! We learned so much! Skarpi was respectful of everyone's skill level and creativeness. He helped out and gave individual instructions in a very unobtrusive manner. If you wanted help he was there for you, and if not, he just checked if everything was going OK. His suggestions were always very positive and encouraging; bringing the best out in our photography! There were many late lights taking sunset pictures, but so worth it! We were usually able to photograph when there were no crowds around. Skarpi gave suggestions on the bus as to what lenses may be appropriate at each stop. Skarpi is friendly and easy going with a great sense of humor. The group size was great (only 9 of us), and it was great to travel with photography minded travelers. The bus was comfortable and well maintained. The wi-fi worked very well. All our pre-trip emails to Arctic Exposure were answered promptly, providing all the information requested. The suggested packing list for clothing and photo equipment was sent to us well in advance of the trip. We stayed in really cute and comfortable hotels and guest houses. The food was phenomenal and we were never hungry. It was the trip of a lifetime! Looking forward to attending future workshops with Skarpi!!!